Adi Mone Buzzer Season 2 , Fastest Family First 2 – Asianet Game Show
Popular actor Suraj Venjaramoodu is the Host of Fastest Family First – Adi Mone Buzzer Season 2

, Upcoming Malayalam Game Show on Asianet . Applications are invited to compete in the Fastest Family First Season 2 that tests the level of knowledge. Chirikkum Thalika, Comedy Stars, Bigg Boss Season 4 Malayalam, Bigg Boss Plus, Mounaragam, Palunku, Thoovalsparsham, Paadatha Painkili, Star Singer, Daya, Sasneham, Santhwanam, Amma Ariyaathe, Kudumbavilakku, Mounaragam, Koodevide are the Current Programs of Asianet.
Malayalam Game Show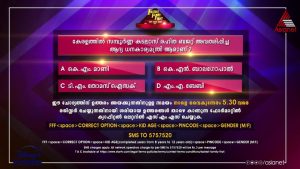 The second season of the super hit family show Fastest Family First 2 – Adi Money Buzzer (ഫാസ്റ്റസ്റ്റ് ഫാമിലി ഫസ്റ്റ് – അടി മോനേ ബസര്‍)is back on Asianet after 6 years. Families can win cash prizes by participating together in this venue of immense knowledge and unlimited celebrations. Muttathe Mulla , Geeta Govindam and Nammal are the upcoming Asianet serials. Bigg Boss Malayalam Vote Official Website – You can use hotstar.com or Disney+Hotstar Application for Cast Online Voting.
Auditions
The event is open to families with children aged 8-12 years To participate, In the Show Fastest Family First 2 , Follow Asianet Social Media Pages and Send your Answers to the Format FFF CORRE CT OPTION KID AGE PINCODE GENDER (M / F) format and send an SMS to 5757520.The family that chooses the correct answer can participate in the program.
Submit Review